We may earn money or products from the companies mentioned in this post.
Yup, this is yet another blog telling you how you should 'go green' and how good it is for you and mother Earth. But wait! Before you roll your eyes and click out, this is a 'go green' blog but with a twist. We are here to convince you that green is quite possibly the best color when it comes to decorating your house. But also maybe consider loving plants as well?
There are so many tones and undertones that are incorporated in green and with some manipulation of the tones and this blog; you will quite possibly want to paint every single room in your house green. And then you can finally be a part of the movement by saying you have a 'green' house. No? Was that too lame? Okay moving on…
Let's just clear up the basics first 
Colour Family: Green 
Pairs best with: Wood tones, red, yellow, red, tones of blue, charcoal, khaki. 
Complementary paint colors: White, beige, black.
Mood: Calming, one with nature, rejuvenating, spa-like feel with a touch of sophistication. 
Where to paint: Great for walls, accent walls, trims, and molding. 
21 Best Green Colors
1. Dark Emerald Green
We're starting with a bang! If you have a new house and you really want to make a statement this is the shade for you. This dark emerald green is very bold and dramatic and will instantly uplift the mood of any room. That being said, it is definitely not overbearing and won't hurt your eyes with its brightness. It also pairs really well with dark wood and greyish blacks; but if you want to lighten it out a little bit you can sprinkle some pops of white, beige, or yellow. Regardless of that, this is a very sophisticated but fun color and something which is definitely not generic. 
2. Sage Green
If you like green, but you also don't want it to stick out like a sore thumb amongst your other neutral decor, you should definitely consider some sage green. It is light and airy and relatively neutral on the color spectrum. It also looks beautiful if done as molding to contrast against dark green walls or white walls. An added bonus is that it pairs up well with almost any color and hence decoration becomes a piece of cake. Not to mention, it is so calming and refreshing and a nice change from your neutral beiges and whites. 
3. Smoky Green
Smoky green, while still being in the green color family, is still quite different. Mainly because it has undertones of grey and charcoal which ash it up a little bit. Hence it is more mature and sophisticated. It gives an air of mystery and really alleviates the mood of a room. While the color might be very formal and will be ideal for your foyer, you can also incorporate in your living room. Make it less mature and aged by adding some fun pops of light yellow, pink, and blue. 
4. Lime Green
Don't get under the impression that green can't be fun and pop at the same time. You can paint your walls with a nice coat of lime green and watch your walls come to life. It is a very young and energetic color but isn't something that is too hard on the eyes. If this color still seems quite bold to you, you can always ground it with some light grey, beige and white. In this way, it won't completely overpower your room, but will still bring all your green fantasies to life. 
5. Camo Green
Camo green is quite possibly the most attractive green I have ever seen. Mainly because it has undertones of brown and black and seems very forest-y. Or because I have too many cargo camo pants in my closet and I'm obsessed. But anyway, this color is so unique and looks surprisingly good on walls. You can go with an all dark colour palette and decorate it with some black, grey, and dark wood. This will give your room a quite moody and grunge vibe. 
6. Marine Green 
Marine green is the perfect love child of Royal Blue and Emerald Green. It is this really rich and sophisticated color that almost feels almost regal. But you can definitely tone it down by just doing this on an accent wall and painting the rest of your house a nice ivory color. It makes a nice statement and can make for a great conversation area. Any neutral shades or dark colors like black and grey would compliment this paint color beautifully. 
7. Light Mint 
If you want a nice pop of colour in your room then mint walls are the way to go. They are not very dark and moody and can easily open the space even more and make it look spacious and airy. It isn't that overbearing a shade and pairs well with all wood tones. They easily give the feel of a fun-loving, positive and energetic room. But you can also make them look very mature with minimalist decor and some modern couches and pieces. It's also very versatile as you can use it for your newborn's nursery or for a formal living room. 
8. Duck Green
This shade is a little similar to the smoky green, but it leans more towards the green spectrum. This shade is very true to its name and has a really nice rich green colour. It is almost dual-toned and when the light hits, it looks greener. But as the evening sets in, with some warm artificial light, it looks smokier. It looks stunning over some trim or moulding. Add some plants to continue the monotony. It really seamlessly blends with all your decor as well. 
9. Avocado Green
The title says it all. This Avocado Green is definitely not for the faint heart. If you're someone who likes to take nice and interesting risks with your interior designing, try this Avocado Green. It is far from generic and can look stunning if done in the right manner. It is a nice light and creamy olive green. Really makes your room look like a hotel room from Mexico. Paired with some yellow ocher or sunny yellow, this colour really makes a statement.
10. Grey Olive
We have another hybrid version of the green color palette. A greyish olive color will still make your room look nice and green, but with a hint of grey, it really gives your room a complete 360. It's for those who don't completely want to commit to green but still want to incorporate it in the overall decor. This is a stunning middle ground and isn't that overpowering. But if you still want to play it safe, you can just dip your toes by painting it as an accent wall. 
11. Billiard Green
The other day, I was playing billiard with a few of my friends in a bar and had the most random thought ever. What if I paint my cabinets this billiard green. It would break the white monotony and the color would be lovely. Two days later painted my cabinets green and to date, it's the best decision I've ever made. It's a little lively compared to emerald green but not as preppy as lime green.
12. Muted Avocado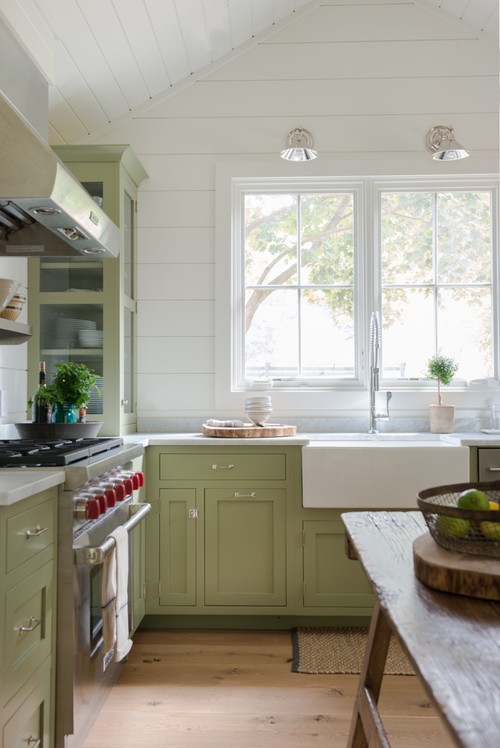 The title is exactly what the color is. It's a muted avocado green. It is a little on the yellow side and is not as bright as the previous avocado green we mentioned above. I know what you're thinking, this is going to make my walls look as if someone barfed all over them. But it really sits in well and looks sophisticated and mature while still being fun. I assure you, you won't end up with a puckishly green wall. 
13. Smoky Mint 
Now, I know you must be wondering that a smoky mint is basically sage. But you're wrong. Sage is a mixture of grey, light green, and a tinge of yellow. On the other hand, mint has undertones of blue instead of yellow which really uplifts the vibe of any room. While being relatively neutral, it isn't as powerful as a mint. You can easily paint all your walls with this stunning color and it won't be overwhelming at all. 
14. Primary Green
This is the most basic shade of green. When you first think of the color green, this is what comes to your mind. It is the color of the leaves and you honestly can't get more in tune with nature than this. We weren't kidding when we told you to go green earlier. This green is the color of Christmas, of the woods, and emanates comfort. It is associated with everything good and lively, and will not fail to bring those exact same vibes in your home. 
15. Greenish Beige 
If you are a sucker for the neutral color palette and want to go for the beiges and whites but still want a twist? I got you! This green is so light that it almost looks as if it's a muted beige. It is definitely a unique color. And it checks all the boxes of being neutral and easy to decorate. It will make your room feel as if you're by the beach and it goes swimmingly with all other greens as well. 
16. Soothing Green
This is a type of green that you would probably find on a Pantone swatch. It is so aesthetically pleasing and calming, it's going to completely liberate you from the worries of the world. Makes you remember the ocean on a bright clear day. As it has blue undertones infused with the green, it makes the color look almost magical. Feels as if you're in a spa as it brings positive energy and peace. 
17. Pastel Green
This is honestly a color that requires much more recognition. If you olive the color green but aren't ready to commit to it, you can always have a light wash of green on your walls. It's a very washed out green that goes with possibly every color on the wheel. Pastels are very easy to work with. You can further brighten up the room with pops of blue, yellow or red. Or you can keep it muted with some light wood and off white. 
18. Pine Green
Pine colored green instantly brings all the good memories I've attached with it. Going to the forest and picking a pine tree for our living room with my day was the favorite part of my year. This pine green isn't too dark so that it reads as moody and grungy. It has a timeless feel to it and can pair well with everything from classic decor to modern decor. If you stop and take a deep breath, you can probably even smell pine. 
19. Neon Green
Nothing like some neon green to really set the tone of a place. This color might not be for everyone, but I personally think it looks fantastic. It's one of those green led lights you keep seeing on tik to, but on a wall. If you don't want to paint all your walls with this color, you can go for an accent wall and balance the rest of the wall with some blacks and greys. It is such a fun and lively color and if you love neon, go for it!
20. Teal 
Teal is a very popular color when it comes to home decor and for good reason too! It instantly makes the room look much more mature and joyful. You can never go wrong with a classic teal on the wall paired with some neutral decor and wood tones. Your room is going to look like a room straight out of a posh interior designing magazine. It is also very gender neutral so you and your partner can finally stop fighting over paint swatches. 
21. Smoky Camo Green 
We are ending with a bang! If Camo green is too military for you but you love its undertones, then a good coat of this smoky camo green should do the job. It isn't as olive as camo green as it has charcoal mixed in it. It automatically gives the room a mysterious and moody vibe. For some reason, I feel as if Sherlock Holmes would totally paint his room a color similar to this if he cared enough for interior decor. 
Hopefully, by this point, we have convinced you that green is the optimal color for completely revamping your house. You can honestly not go wrong with a color like green. It has so many different tones in it, there is something from everyone. From light and floaty to moody and grunge. This blog 'reduces' your work to find the perfect green for you, 'reuses' all your furniture as almost everything pairs well with green, and 'recycles' all your positive energy and manifests it in your wall color.
Needless to say, we are very environment friendly.