We may earn money or products from the companies mentioned in this post.
No one ever has enough counter space in the kitchen and the cabinets can never hold everything, literally never. If you are a renter with a small kitchen, there is double trouble for you. You must have brainstormed through those interesting storage hacks on the internet, but nothing is renter-friendly, right?
As a renter, you likely feel the stress of figuring out how to make everything look good without making your house owner frown and I am here to help. Most of the brilliant storage ideas out there involve ripping out the walls or drilling real deep to put in a shelf and so on. Most of them would give the house owner a heart attack and hence a penalty.
I have dug real deep to bring out 17 storage hacks for every renter out there with a small kitchen. These ideas are all temporary with minimal work on the walls. From unique cabinetry solutions to how to use under-utilized space effectively, you will find everything here!
Check out these ideas and I am sure they will help you get that security deposit back without major deductions!
17 Small Apartment Kitchen Storage Ideas
1. Rethink your walls
Repurpose the previously vacant wall space to store those pots and pans. Yes, you can hang them on the walls on the cabinets with the help of command hooks and you don't have to modify anything. 
It is advised to hang the bulky stuff on the lower areas or wall space, incase the hook fails to hold it. These clunky items would be easier to grab and you can keep those storage containers and cutlery in the cabinet, all the less-appealing items would be out of sight. 
2. Hang a pegboard
Since this is your rental apartment and you cannot make permanent changes to the walls, installing a full-fledged wall cabinet won't be feasible. Install a functional pegboard instead of a cabinet and you are good to go. 
It would serve the same purpose and you would just need a hook to hang this up. Pegboards look so chic, with all those pans and utensils on display, they change the setup completely. You can DIY a pegboard or just buy one from Amazon or Walmart. I am sure you would be drooling over it in no time! 
3. Store things strategically
Yes, it is very important to use the cabinet efficiently and you must not forget, your job is to optimize the space available. For example, it is just fine to store those non-essential items on the topmost rack no matter if it's out of reach. 
You can use risers to optimize the space and you would have ample room for every plate and dish. Store the baking dishes, pizza pans, etc on the topmost shelf cause you would never consider it an essential, right? 
4. Magnetic Knife Rack
When it comes to optimizing the space in a small kitchen, magnets play an important role. You don't need heavy drilling work to mount this small magnetic knife rack and in return, it would free up so much space elsewhere. 
Knives aren't my favorite when it comes to efficient storing because of their weird size and yes, the safety has to be maintained. This rack ticks all the boxes here and maximizes space together with safety. 
5. Filing organizer for platters
Much like that efficient filing organizer on your desk, this one is used to keep those plates and platters in place. You would just need a small cabinet for this one and you can store everything, from cutting boards to bulky plates. 
This is an efficient storage technique for trays as they won't wiggle when you take out something else. You can also keep serving platters in this way without any hassle. The best part is, you would save lots of space in your rental kitchen and that is our goal, right? 
6. A Slide-out Prep Station
Want to free up some counter space? Bring home a slide-out prep station for your cooking chores, mainly chopping. This would ensure that the stove area is clean and tidy and yes, the counter space would also be optimized. 
You can have the hole right above the trash can so that it is easy to dump the peels and pits as you carry on with the chores. This is an efficient solution to so many problems and I am sure you are impressed! 
7. Use the door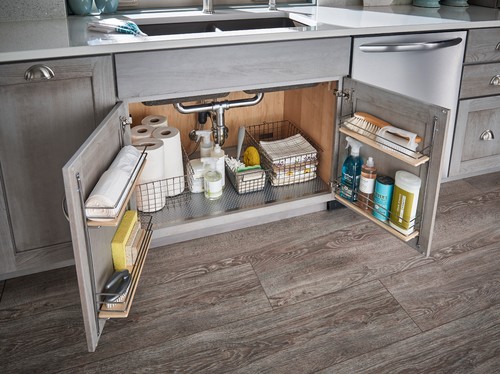 What is the most under-utilized zone in your kitchen? If you ask me, I would definitely say the doors of the cabinets. While it might seem unconventional, it is an amazing hack to optimize the available space in your small kitchen. 
Use straight racks on the walls of the doors to hang lightweight items like brushes, tissue papers, and so on. In this way, you can store essentials without taking up the inner space and it is so worth it. 
8. DIY Magnetic Jar Holders
I did talk about how you must use those doors of the cabinets to store things and don't overcrowd the inner space. Next, I have these amazing DIY magnetic jar holders that would help you use the bottom of your cabinets! 
Yes, I am not kidding, it is possible and you would just need magnetic strips or removable hooks for this one. Keep the storage in the cabinets free by hanging mugs and spices with this efficient method. An added advantage is having a cabinet right near the stove; store spices and your cooking chores are hassle-free now! 
9. Drawers for cabinets
If you have deep cabinets installed in your rental kitchen, it would be safe to use drawers for organizing. You might think that it would consume extra space, but trust me, it is just the opposite. 
These storage drawers are made from durable plastic that would keep your belongings clean, always. From table linens to placemats and napkins, you can store anything and everything and nothing would be lost again. 
10. DIY Kitchen Drawer Organizer
Another sneaky storage idea for your small apartment kitchen, this one is a sort of organizing hack which would also help you save space. You must have a dedicated drawer for spoons and utensils, and it is essential to keep it organized. 
Use plastic caddies to make compartments and store the utensils separately. Keeping them in place would save space and the drawer would always be neat and tidy. Take this extra step to nestle your spoons and forks together and trust me, you won't regret it! 
11. Free Standing Shelves
Since you cannot install wall cabinets and shelves for your rental kitchen, bring home these standing shelves to declutter your kitchen. This would add additional square footage to your kitchen and it is very convenient.
Choose the appropriate size from the huge range of available sizes and shapes and there is nothing to worry about. Keep it between the stove and the fridge or make some space near the dining table, there are so many options! 
12. Pull Out Cabinet Organizers
If you are like me, you might have always lost the lids of those pots, and trying to find them out can be a nightmare. Say goodbye to those hassles and install pull-out cabinet organizers for your rental kitchen. 
You don't have to bring in some permanent changes to your rental kitchen and it is an amazing method to save space. It is always better to keep things organized if you want to maximize the space and here we have the best in town. 
Buy this cookware organizer on Amazon.
13. Use mesh bags
You might already have rails with hooks or you can install some more for your convenience because they do not involve heavy-duty work on the walls. These mesh bags from IKEA would be perfect for those rails, ready to be used as hanging storage.
Avoid plastic bags, use them to grab products right from the store. Get home and hang them up, no hassle of unpackaging and I am sure this would keep the fruits and veggies fresh for days. 
14. Store pans sideways
There cannot be a full-proof solution to store pans, but I can definitely help you with an efficient storage idea. If those pots and pans in your kitchen are messy, jumbled, and noisy, just like me, it is time to organize it the right way. 
From cutting boards to baking sheets, stack those noisy items horizontally and you don't have to worry about them for a long time. These divider racks are easily available in Walmart or IKEA, grab them right away, and optimize the cabinet space. 
15. Right above the stove! 
I don't think your rented kitchen has a wall cabinet right above the stove because it is very unlikely to mount that area with a cabinet. Utilize this space to your benefit and store essentials in the free space. 
You would just need to install a rack and basic shelf for this one and it's done. Hang those everyday-use pots and pans, arrange the shelf with cookers that are mostly used, and so on. You can even use that space as a spice rack to ease the chores while you are cooking. 
16. Use Hollow Island
A hollow island in your kitchen would just look like a regular island from the front when you have a plethora of essentials in the back. Make this the central storage system for everything that you need in the kitchen. 
From cookbooks to utensils, fruits, and veggies to cutlery, use this space at your ease and you would add some extra storage to your small kitchen without cluttering and disturbing the decor of the room. 
17. Regain Sink Space
When it comes to organizing a kitchen, keeping the countertop clutter-free and tidy is one of the main concerns. More than often the area near the sink is messed up by sponges and scrubbers and we don't even realize it. 
Instead, use desk organizers to store them and hang them on the side of the nearby cabinets. This would declutter the countertop and you would also be using an under-utilized space. 
Using efficient storage ideas for a small rental kitchen can be very tricky and the only catch here is to understand your needs. Pick your favorite hack and get to work right away. Your resources might be limited but not the possibilities!