We may earn money or products from the companies mentioned in this post.
I know it's boring to organize stuff and keep it all cute and tidy. Till the point it is limited to your bedroom, that's bearable! But what when you've got a week's camping on the head? Are you freaked out about how you've packed a million things but don't have enough space on the camper? Only when your organization is on point, you'll be able to enjoy the trip thoroughly. If you're one of those people who struggles with organization, you're on the right page.  I personally find organizing boring too. And for the sole reason of making it look easy and interesting plus useful, I have these tips that will come in handy.
The RV has designated area and our main aim is to keep the place tidy and clean. If this small part is taken care of, you're going to turn away small problems that may annoy you during the trip. In this manner, you'll literally feel lively throughout the entire journey! Good luck to you..!
50 Brilliant Ways To Organize Your Camper or RV
1. Magnetic Stripe

Use this Magnetic stripe for a better and non-messy organization of knives. not only knives but this magnetic stripe also allows you to put spice jars into place.  You can also increase the number of magnetic stripes you install. You could install one in the kitchen and another one in the living area.
2. Nesting Pots
This nesting pot, true to its name, nests altogether when of no use. this makes the place so tidy with no extra utensils piling up at all. What more do we want than every vessel compiling on it's own?! No extra trouble to find a place for the various sized pots and pans. Not only the pots and pans but we also have measuring cups that nest altogether. This also saves you from the trouble to rightly choose the right kind of vessel for the right event.
3. Shelf over the toilets!
You can introduce this wire crate rack over the toilet to hold towels and additional bathroom tissue. It works out impeccably and can hold up to 4 moved towels. Wired baskets are also light in weight so, they are a low burden to the wall. The wired look kinda compliments an antique finish that enhances when towels are placed inside. This is neater than random towels hanging in the hooks.
4. S Hooks
Small bathroom organization is literally difficult. The shower rod has a designated amount of hooks that hold the shower curtain. You can add these S hooks on the rod and hang your products. This saves us the trouble of installing shelves or reaching the toiletry pouch to get each item. The installation is also not an issue, there is no hard work, just the S hooks to be hanged on the rod.
5. Cord Reels
Wires and cords are like the food and water to your electronic devices and you certainly don't want them to be lost in any situation. It gets worse if you have different pins for each device. Imagine the number of cords you have to carry and maintain. The good news for you is, there is no need to worry, there will be no loose wires and cords now. All your cords are now neatly organized and held in place with this cord reel.
6. Drying Rack
Camper and RV kitchens are tiny and leave us no place to let the vessels dry. No one wants wet utensils in the cabinets now, do they? Furthermore, there is commonly no spot to allow dishes to dry. Go through a rolling dish drying rack to let your dishes dry on and afterward move it up and set it aside when you're not utilizing it This rolling rack spreads out on the surface of the sink allowing the water to drip in the sink itself.
7. Door Trash
No space for a garbage bin inside your camper or RV? Don't sweat it! Simply include this over the entryway bureau crate to cause a little refuse to can in your camper. You don't need to be worried about the garbage organization though, this bin is going to handle that. You could even utilize this crate to store pot holders or foil and plastic wrap in.
8. Bedside Nightstand
Nightstands in an RV or Camper are practically nonexistent. Why bother using up all of the tiny space that is available. A nightstand could actually be hard to fit and even if you fit one, it is going to be the mini version of what you have at home. Instead, all things considered, utilize a bedside coordinator to hold your mobile, electric lamps, books, and so on! Just attach this to the side of your bed and you're good to go. No stress, no space issues neither any cleanliness issues.
9. Hanging Containers
These little containers that you see, could be hanged around in your RV. These will also give a cute and minimalist look and provide a complete them to your RV. Instead of searching for your travel pouches or just randomly finding your toothpaste in the kitchen drawer, you could always use hanging containers. All your stuff will be handy and you, tension-free.
10. Peg Boards
Who here does not want an aesthetic surrounding to live in? All of us! Logically, if your RV is your surrounding for the next few days, you'd like it if it were pretty! For a clear view of your resources and a confusion-free mind, use a pegboard in the kitchen. You'll face no complexion whilst installing.
11. Wall-Mounted Shoe Rack
A shoe rack is the best way to keep all your shoes in place and also to keep the dirt in place. You'll no longer have soil trails in your RV. This rack is just on the door and the minute you enter, your shoes are off and the minute you leave, your shoes are on. No right, no left, just perfect!
12. Suction Cups
Suction cups may seem weird? But these little things are so useful than you'd ever imagine them to be. Suction cups should always be handy. You don't need to rush to your bags or dressing tables to find the smallest thing. Just paste these over the walls and you're good. You can also create a pattern along and get your creativity out! Suction cups stick one end to the walls and the other to the product. In this way, it also keeps strong support preventing the product to fall off.
13. Mason Jars On The Top
Mason jars are the go-to and everyone's favorite jars. However, the jars will not be stabilized using their bottoms but their tops. Screw the lids on the ceiling of the RV and just twist in the mason jars there. It'll just be like getting things from the air. The minute the work is done, you can again, twist it back in place.
14. Drop Zone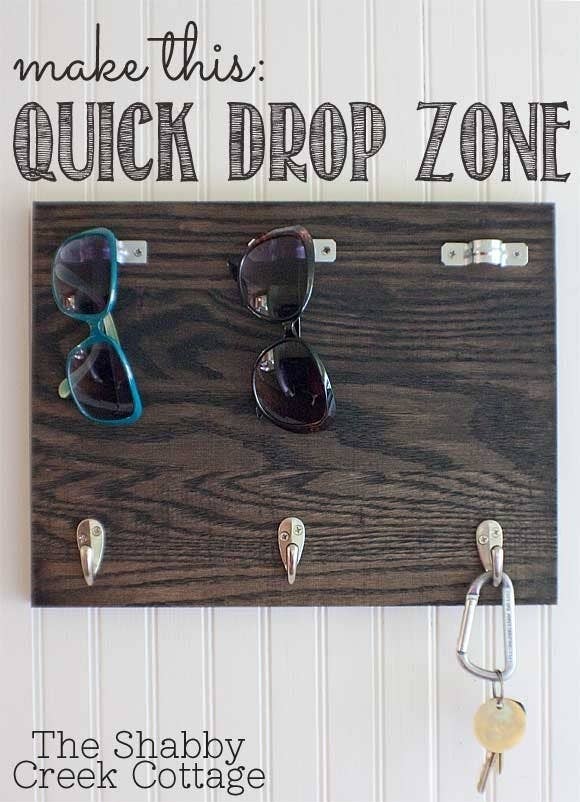 Neither designated to sunglasses, nor to keys. In fact to anything that may just rest on these hooks! The quick drop zone is technically a zone for anyone who keeps forgetting stuff. I don't know if it's happened with you or no but ask for me, always! the minute I enter the RV, I keep my keys either on the sofa or on some shelf, and half an hour later, everyone is searching for the same. Only if I had a quick drop zone and some hooks!
15. Bag For The Toiletries
The medicine cabinets are way too small to fit all your needs. To the rescue comes this toiletry bag. This has zippers, shelves, and whatnots. On the brighter side, it also compacts the entire packing.
16. The Entryway
The entry to your camper tells your guests what kind of a person you actually are. Always keep your entryways decorated and clean. To help you with both of these parts you can use a wall-mounted sorter baskets.
17. Sockets
The most important organization is to be done with loose wires and cords. Seems difficult when you have many devices to charge. The cords are used altogether but it's a pain when you have to wind them later. You can use a special socket to do 2 of these things together. This device also offers a special opening to charge AND keep your cords and wires in place.
18. Broom Holders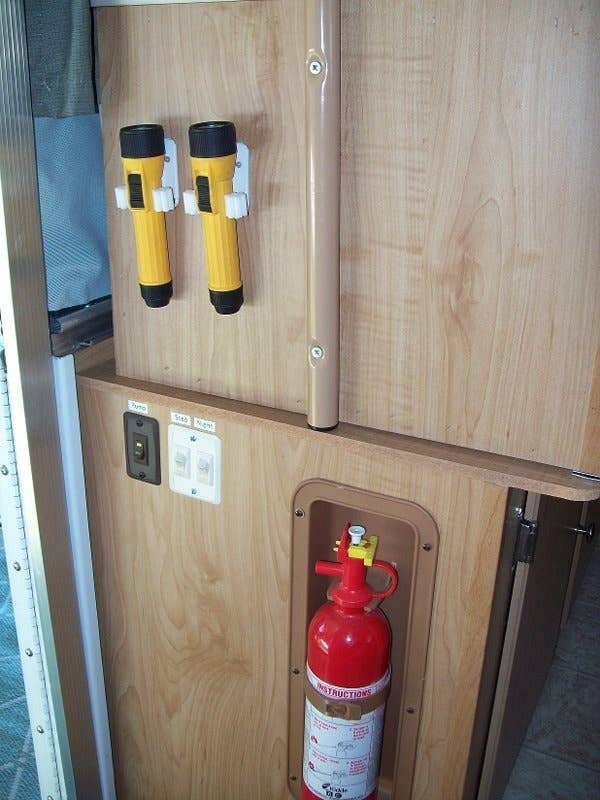 Install these kinds of broom holders on the back of the door or any convenient place. These broom holders can be used to hold torchlights in place and during an emergency, you can just grab one and head out. There's no need to frantically search around. The best place to keep a flashlight is the back of the door, hands down.
19. Velcros For Remotes
Velcros are the best organizers. Non-messy, non-sticky, and pretty much reliable. A queue of remotes is also pleasant to watch. When you have your sibling fighting over remotes, you can always make them put it back in place and each one gets a chance to use it from the velcro bar.
20. Baskets
Mounting baskets can pile up your fresh fruits, vegetables and give a unique and vibrant display making your RV look cool. Imagine waking up and heading to the kitchen greeted by a dozen oranges resting in this basket. Made you wanna do this immediately? I know, because same!
21. Hanged Coiled Hoses
When hoses are tied up and are placed on the doors, they can be easily exposed to sunlight and they will dry more readily. In this way, there will be no wet floors and you don't even have to worry about the dripping water continuously.
22. Over The Head Sink Rack

If you are someone who doesn't like hanging baskets or racks, this is a very useful option for you. Keeping the rack over the sink also helps in no water dripping all over. All the water goes into the sink itself.
23.  Hooks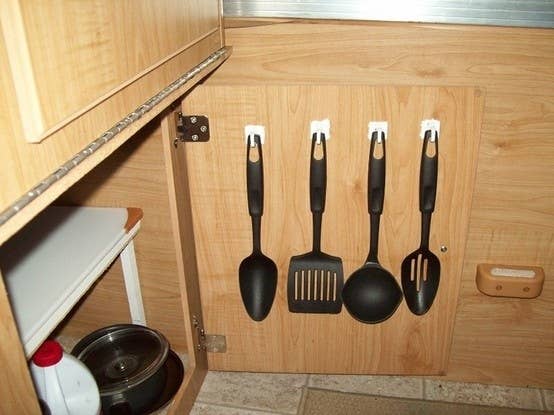 If the inside of the doors has command hooks to hang single spoons and other stuff, there will be less mess and rattle in your drawer. You'll not have to try and fish out the exact spoon you need, out of a plain surface. This is the best way to organize inside the cabinet doors.
24. Mesh Shower Organizer
Sort out your shower stuff in this entirely, so it's prepared to use when you park. (it's likewise convenient to set down while on the way and keep things from getting excessively untidy!) No more bad smelly and wet cloth pouches anymore. Because it is mesh, it'll also let out all the water from it without the bag itself getting messy.
25. Hanging Valet
Hanging valet help in an RV because the bathrooms have to be shared. The wallet helps you keep the towels separately. This hanging bar does not even need any kind of tedious installation. It is just a simple one at the door hinges.
26. Woven Plastic Basket
Plastic bins effectively stack when not being used for the greatest space use and its coordinated handles permit you to move them around effortlessly. The baskets tough clear plastic body with work to last from best materials that won't fall to pieces on you when you put them under a test. You could use different colors and finish the aesthetic look created.
27. Mesh Shower Bag
This shower bag has 8 external compartments and an enormous one in the middle to keep all your requirements effectively. Fast dry time, simply hang work shower caddy dormitory over the entryway, showerhead, or on a hook.
28. Cloth Hanger
This cloth hanger made up of cloth is an amazing mobile cupboard. Not only does it stores your outfits, but also is strong enough to store accessories. toys, pants, sweatshirts, and whatnot. this lies strongly in power and finishes look with its color.
29. Hamper Bag
Spring up hampers are ideal for RV use since they are vertical, lightweight, and frequently simple to convey to and from the laundromat! I love that this one has a side pocket so you can put your laundry things (cleanser case, dryer sheets, coin pack) in it while being used!
30. 
Mug Hanger 
You heard it right. A mug hanger. The number of mugs you'll be able to place on this particular hanger is going to depend on the size of your personal mugs.  This hanger easily fits into any cabinet and organizes your mugs so there are fewer chances that you might break one.
31. Collapsible Garbage Bag Holder
How cool is a collapsible garbage bin? Too much right. I know. To top it as a cherry on the cake, this garbage bag also comes with a lid. This can take up to 13 – gallon large garbage bag and is also easy to use either indoor or outdoor. Whilst traveling, it compiles and shows wonders when opened up.
32. Under Shelf Basket
There are times when the pantries are just vertically big. There are fewer numbers of shelves but each of them is around 2-3 feet tall. Here, you definitely need to increase the number of shelves in order to organize better. Under shelf baskets just add space below your actual shelf resulting in increased place. You may add dish towels, napkins, etc.
33. Collapsible Dish Drying Rack
This rack opens itself to place various dishes on it. These dishes air-dry and hence, also save your cost. After the work is done, fold it up again and there it goes back in its original place.
Buy this dish drying rack on Amazon.
34. Shower Caddies
Each and every stuff from your house comes into the RV. You could compromise on products that are within the kitchen or so but compromise with bathroom stuff could never be tolerated. Moreover, to accommodate every product into 1 single pouch or bag is kinda difficult. Here, a shower caddy comes into the picture. This is made up of towel material and holds everything that you must have.
35. Magazine Holders
Use magazine holders to hold your books, newspapers, or your personal diaries. On a second note, make sure to attach these magazine holders on the sides of cabinets so that the place looks neat overall.
36. Tension for Tissues
Create a tension under a shelf and tie your tissue roll in this manner. If this isn't the most organized tissue tip you're having today then I don't know what is.
37. Zip it up!
Zip loc bags are the most accurate bags you find for messy people. Storing leftover food could be very helpful. Inserting these, you don't have to worry about space too. Secondly, if you're not using it for leftovers, you can also use it for preparations. Add everything you need for a dinner and you'll be stress-free during dinner time. Ziploc bags are also way too good for kids. None of the kids are gonna mess with the stuffing.
38. Plastic Bag Dispensers
Plastic, as it is, is use and throw and possibly the best to use whilst in a camper. Talking about plastic bag organization, this is going to help you a lot. This dispenser dispenses single plastic bags as per use. You may want to mount it to the wall to have easy access.
Buy this plastic bag dispenser.
39. Shoe Organization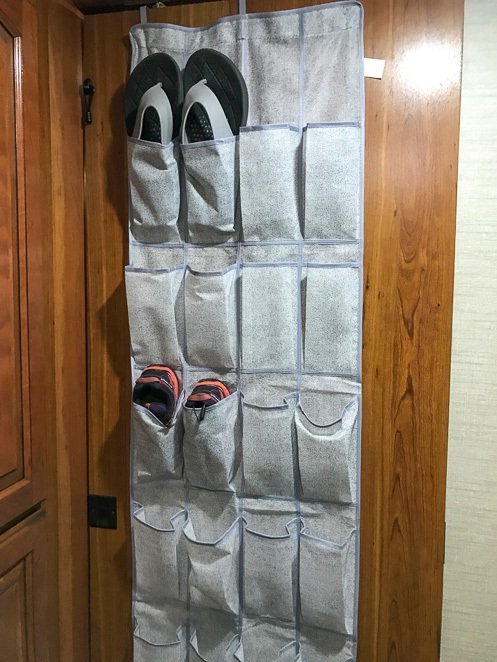 Using an individual hanger yet an enclosed one is the best way to organize shoes. You may organize them by type, for instance, shoes in the first row, slippers in the second, and sandals in the third. You may sometimes want to go according to the color. Yellows together, blues together, you can do that via rows too. Your pairs stay individually together in spite of all footwear being in the same hanger. Amazing, cool, and cheap too!
40. Bottle Storage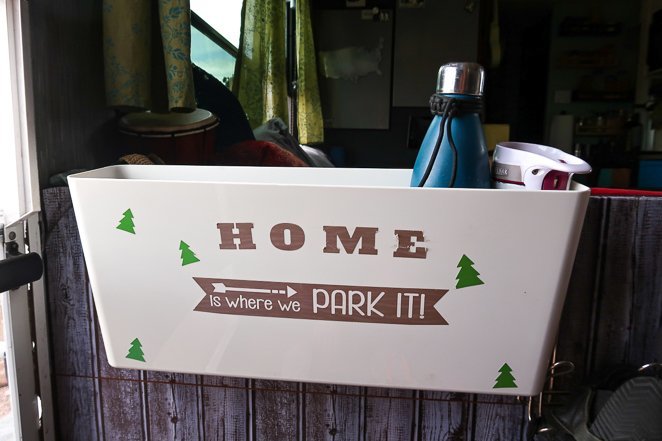 Who is not thirsty whilst in the middle of an adventure. It is only logical to keep your bottle at a place that's the most accessible. Taking proper organization into consideration, we can mount a basket exactly to a wall and it's done.
41. Kitchen Sink Organizer Baskets
This small and timid wire case comes along with suction cups on the back. You say easily stick it to the wall exactly above the sink. Wet sponges, bar soaps, and scrubs too. It is a bonus that the case is made up of wire. This helps in the effective drying of the product. Air Drying is the best and the least expensive way.
42. Wire Garbage Holder
This small wire plastic trash holder is not to be judged upon its size. The open mouth system makes the hands-free disposal of garbage easy. This is just a hang on the device and can be hung up on doorknobs, cabinets, pantry, laundry, etc. Now you do not need to struggle with opening the mouth of the trash bag while cooking or doing something artistic.
43. 
Paper Towel Holder
This has an adhesive over its top and it is the easiest way to place it. The adhesive can also hold a weight of up to 10 kilograms. As a bonus, stainless steel is also waterproof. This also goes under cabinets, on the pantry, in a laundry, or wherever you feel tissues must be important.
Check out this paper towel holder on Amazon.
44. 
Bedside Shelf Organizer
You cannot think about nightstands in an RV obviously. But you also don't want your stuff lying around irregularly. The shelf or a compartment has to look elegant too. And so, this is a shelf organizer that helps in keeping your remotes, spectacles, and phones securely so you may sleep peacefully. Again, apart from looking elegant this also does not damage the wall sides. It has an adhesive and installation is not a problem.
Buy this bedside shelf organizer.
45. Portable Dish Drainer And Rack
This little piece has a complex structure and allows the usage of different compartments. This single item can also be used as a tray when closed. The instructions to it are very simple, just pop it open. The compact and portable nature allows this basket to be suitable outdoors and indoors.
Buy this portable dish drainer and rack.
46. 
Toothbrush Holder
Staying with your family members, it is logical enough that your rooms and RV is gonna get messy. The soaps and shampoos to be shared. You'd willingly compromise on any kind of behavior but mischief with a toothbrush is always strictly prohibited. And for the complete 360 security of your toothbrush individually, there are these kinds of toothbrush holders. No more messy toothbrush racks.
47. 
Extension Cord Holder
You never want to find loose cords and wires anywhere. This cord holder could be used for huge machine links and strings, network wires and generator ropes, electric force lines and corded instruments, washer hoses and nursery and pool hoses, air and vacuum hoses, and other huge hoses or rope, and so forth.
48. 
Slim Plastic Trash Can
Simple, elegant, classy, and aesthetic are not the words that you think of when said, trash can. But boy, do you see this? Slim fit, and rectangular in shape, this trash can fits almost everywhere. Not only does it look beautiful and sleek but this can is also easy to clean. You just have to wipe it and timely rinse with soap and water will do! Have a trash can like this on RV and you're set all journey long.
49. 
Adjustable Cutlery Tray
The cutlery tray is to further organize the drawer. The knives won't stick out and the spoons will not disturb the forks.
50. Multi-Purpose Hooks
Multipurpose hooks are essential to keep most of the stuff organized. This keeps the place in order.
Get on your RV, get your body ready for the best camping experience you'll ever have! But the bonus part now is that you don't have to worry about the organization part! It's taken care of!